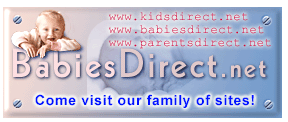 Making the RIGHT Choice!
If you are thinking of becoming pregnant, or you are already pregnant, it's extremely important that you find a provider who provides good prenatal care for you and your baby.  As many studies have shown, early and sufficient prenatal care is vital for you and your baby's health and well being. Selecting a provider even before you get pregnant can be a very effective way to selecting a provider.   There are a variety of obstetrical providers to provide you with care, so the key is finding the provider that best meets your need for safe and competent care, while being sensitive to your specific needs.
Each type of provider has different qualifications, depending upon what state you are in, and where you plan to give birth.  The range of providers includes and OB/GYN, a family practice physician, a Certified Professional Midwife, Physician's Assistant and sometimes a nurse practitioner.  You can study the options in your community, and interview the various providers you are considering.  Some women also choose a doula to help them with their labor.
If you have relocated to a new city or town, changed insurance plans, or don't feel comfortable with your current obstetrical provider,  you may search out a new one. Ask other pregnant women, new mothers and friends about who they recommend. Met with a few, and choose the one you feel the most comfortable with.
We here at BabiesDirect have put together some Guidelines and Recommendations:
Three Pieces of Advice:
How much will a consultation appointment cost?

When you make the appointment for a consultation appointment, ask about the cost. Providers set aside 10 to 15 minutes for an initial consultation. If your discussion lasts longer than that (up to a half an hour), there is a chance you may be charged another fee (consultation).

Where does your provider assist with birth ?

During your decisions regarding an obstetrical provider, determine where the provider assists with birth, and who their back-up provider might be in the event they are not available. Ask, ask and ask questions about which hospital or out of hospital birth setting) your provider uses, and ask "Does it have a birth center?" or "Is it family- and child-friendly?" or "What kind of relationship does your obstetrical provider have at this hospital?" If you have a specific hospital or setting where you would like to have your baby, sometimes choosing the hospital and then finding the provider is an effective way to go.

The Paperwork Formalities?

When the choice has been made, remember to telephone your previous provider and ask to have your medical records mailed to your new obstetrical provider. Your new obstetrical provider will need access to your complete medical history. You will also need to have your insurance checked to be certain your provider takes your insurance. Making these arrangements ahead of time is very helpful
Questions for the obstetrical provider:
Their Background:

Find out from the obstetrical provider how long he/she's been in practice and what he/she likes best about her job working with pregnant women.

How long will it take them to get a hold him/her in a non-emergency situation?

 How would you reach her in an emergency?

Group or Solo Practice:

If the provider is in a group, ask how often you'll see the other providers, and if you will have an opportunity to meet them.  What percent of her own patients does he/she deliver?

If the obstetrical provider works privately, ask him/her about who you will see when they are away.

Typical Pregnancy Care:

Ask the obstetrical provider  which tests he/she routinely performs. Do you, the pregnant women, have any concerns about one of them? If so, ask the provider how he/she'd handle those concerns.

If you're thinking of working with a midwife, find out from her who she consults with in an emergency, or if you develop a condition that is outside of her scope of practice. Ask her about her training, qualifications, licensure. Is she associated with a specific physician group, or does she use an on call practice. Is your midwife affiliated with a specific hospital, and does she have privileges at a specific hospital?

Find out how experienced the obstetrical provider  is with high-risk pregnancies (for example, twins or multiples, gestational diabetes or hypertension can all result in a "high-risk" classification) and what you could expect if your pregnancy becomes high-risk. Who would your provider consult with should you develop a high risk problem ?

Does your obstetrical provider encouragevaginal births after cesareans? What does he/she feel about VBACs and Cesareans ? Finally, ask if he/she recommends that you take a childbirth class, and if so, which one.

Labor, Birth, Postpartum

Ask if and when the obstetrical provider (or the back-up provider typically meets a patient in labor at the hospital.

If you'd like to use a doula (labor coach), see if the obstetrical provider has any suggestions. Does she like working with coaches? Is there someone she'd recommend?

What does the obstetrical provider recommend for the management of pain in labor ?

What procedures does this provider routinely perform during labor (for example, fetal monitoring, IV's or episiotomies). Is there any procedure you don't want to have, and if so, what happens then?

When you visit the hospital where you plan to give birth, ask:

Ask what happens after your baby is born: Will you be separated? If so, for how long?

Can the baby stay in your room with you? Can your partner?

Are there any special services for new moms?

Are there lactation (breastfeeding) consultants or other professionals available to answer special questions?
Conclusion
Above all do not worry about asking too many or too few questions. Don't feel dumb or stupid about questions.  Remember: The only dumb or stupid question is the one that is NOT asked.  It is important to get answers, and it's also important to give yourself the chance to decide if this obstetrical provider provides the best approach for you, and is a good match for you.
Are your sore after having your baby? Click here to find out how to ease the discomfort.