FREE "BabyWatch" Software Download!
The first 9 months are very exciting to both the baby, the parents-to-be and family & friends. But isn't it a shame that you can actually see so little of what's happening ? That's what we thought, so we invented BabyWatch !
Specifications
With BabyWatch you can track the developments of your unborn child by the second ! This program counts with you until the day your baby isborn. Our users find it very encouraging to see the counters decrease by tens of thousands every day. After all, it's over 24.112.168 seconds that you will have to wait !
During the pregnancy that you are "watching", you get statistics on babies length and weight plus mothers belly, all updated every second. See the micrograms add up ! You
get lots of information in the weekly newsletter, can listen to the simulated hart beat for your moment in pregnancy and you see pictures of the growing body of your child body in real size (that's just a pixel the first weeks ;-).
Does time still not fly ? Browse through thousands of names, astrological charts and meanings and think about his or hers name. Or count for intermediate milestones and try a gender prediction to keep you busy. And if you have enough, sit back and watch the screensaver stork fly and tell you the latest facts and figures about your child.


(5 MB)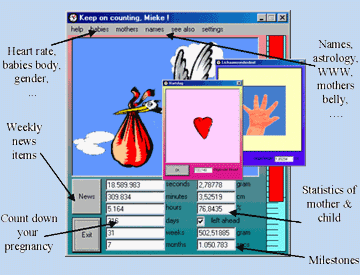 Both fun and educational for every high-tech Dad, Mom, Aunt, Uncle, Grandmother, and Grandfather to
BE!
Runs on any MS-Windows 95, 98, 2000 or NT platform.
Options for Dutch and English.
Weight &, length units plus title bar customizable : think of your own peal slogan !
Can be minimized and still counts visibly in the task bar.
After birth, still usable as a counter of the age of your child.
Includes the BabyWatch screensaver.
You can download a freedemo
(5 Mbyte).